The challenging part about trying to go ultralight with winter camping is that winter gear is typically heavier and bulkier so that it can withstand the elements.
We learned this the hard way after investing in a 30-pound canvas hot tent along with a 30-pound stove to go with it.
You may not be able to go as ultralight as you can in the summer, but you can definitely cut down on a lot of weight by choosing the right gear.
Here's what we recommend if you're thinking about going on an ultralight winter camping trip.
Ultralight backpack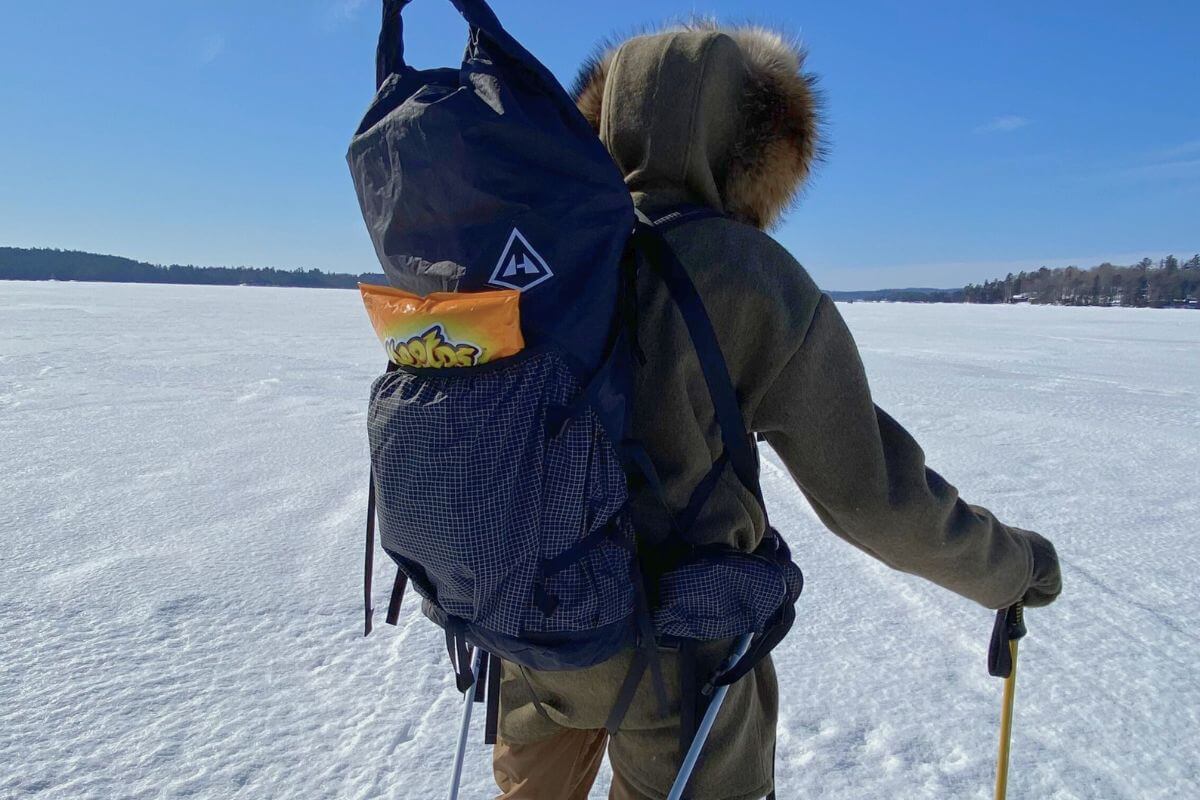 Look for a backpack with a capacity of 50 litres or less.
This size strikes a balance between providing enough space for necessary winter gear while still maintaining a lightweight setup.
When choosing a backpack, consider its weight and durability.
A pack made of lightweight materials should be your priority as it significantly reduces the burden on your shoulders.
Make sure the backpack is sturdy enough to tolerate harsh weather conditions and wear and tear from frequent use.
Additionally, an ultralight backpack should offer practical features such as easy access compartments and gear loops for attaching items externally.
Going for a backpack with a padded frame can provide better support while carrying heavier loads.
One recommended backpack is the Loowoko 50L Hiking Backpack.
It's designed specifically for hiking and offers several useful features, including a rain cover, adjustable straps, and multiple compartments to keep your gear organized.
Given its reasonable capacity and lightweight design, this backpack is ideal for ultralight winter camping, providing you with comfort and convenience during your adventures.
Ultralight 4-season tent
A four-season tent is a must in the winter because it provides protection and warmth in harsh weather conditions.
You'll want to focus specifically on tents that offer a reliable balance between lightness and protection.
Key features to look for in an ultralight four-season tent include:
Weight: Aim for a tent that is lightweight but still offers the necessary protection for harsh weather conditions.
Durability: Winter camping requires a tent that can handle snow, wind, and other potential wear and tear.
Weather resistance: Choose a tent with a high weather and storm resistance ranking for optimal protection.
Ease of setup: You may need to set up and break down camp frequently in challenging conditions, so opt for a tent that is easy and quick to assemble.
Ventilation: Adequate airflow is crucial, especially when camping in cold environments, as condensation buildup can cause problems.
A suitable option is the MSR Access Lightweight 4-Season Tent for Winter Backpacking.
This tent combines low weight and excellent durability, making it easier for you to carry during winter expeditions.
Ultralight hot tent and stove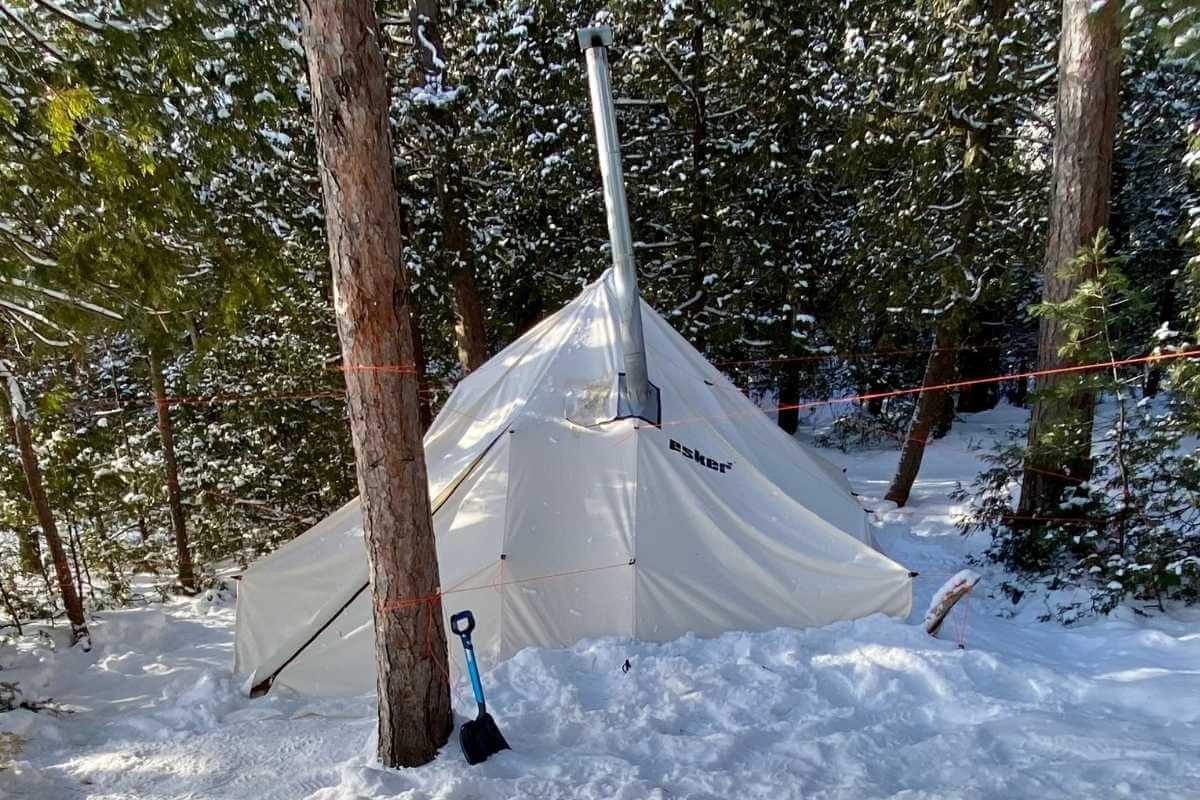 If you're not into cold camping with a 4-season tent, you may want to consider hot tent camping instead.
Just keep in mind that this setup will be heavier than cold camping no matter what, because it involves bringing a wood stove and chimney.
To make it as lightweight as possible, you'd need to use a hot tent made of lightweight material and a compact wood-burning stove made of lightweight metal such as titanium to comfortably embrace the chilling weather.
The OneTigris Rock Fortress Hot Tent with Stove Jack could be an ideal option with features such as durable materials, a stove jack, and optimum ventilation.
These features keep you warm, dry, and safe through cold nights.
Regarding stoves, portability and efficiency are key factors to consider.
The MC TOMOUNT Titanium Folding Tent Stove is worth considering.
This lightweight stove, made of durable titanium, adds minimal weight to your pack and quickly heats up your shelter.
Ultralight winter sleeping bag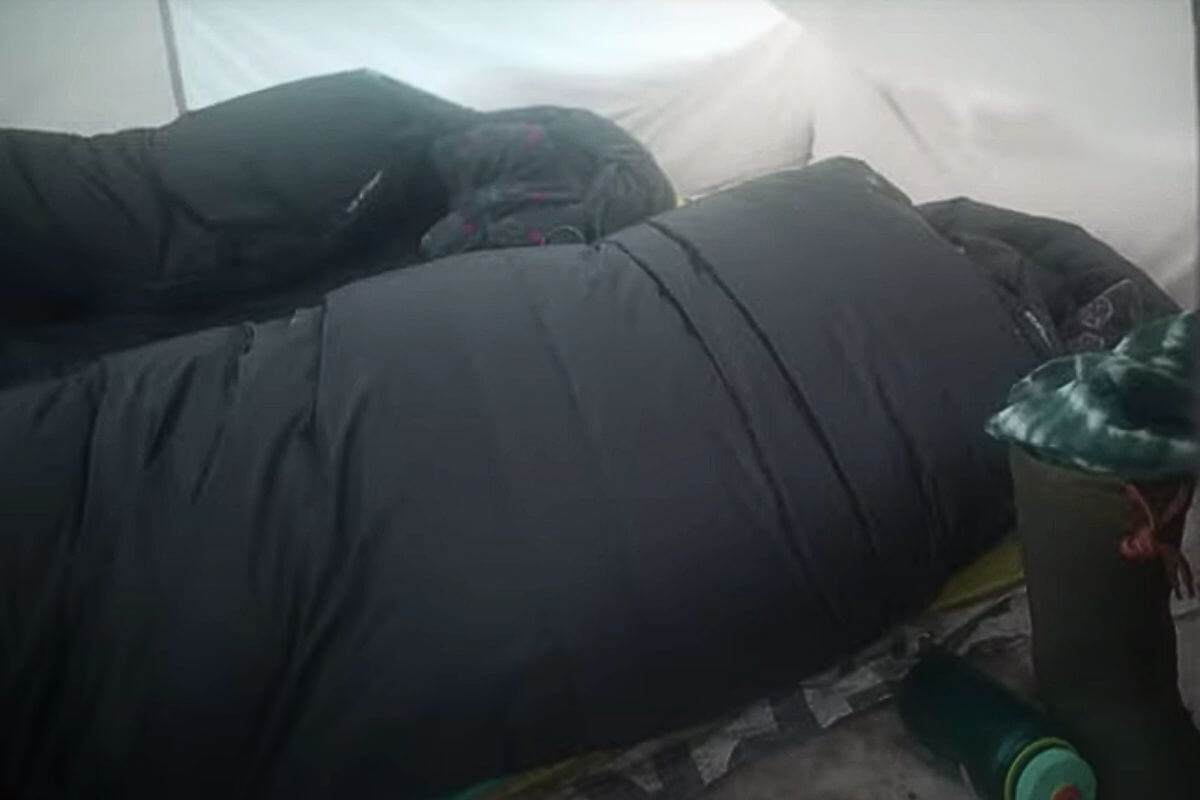 When choosing a winter sleeping bag, pay attention to insulation material, temperature rating, and weight.
Down-insulated bags, such as the Hyke & Byke Eolus 0°F Cold Weather Mummy Hiking & Backpacking Sleeping Bag, are highly recommended for their excellent warmth-to-weight ratio.
You should also prioritize a mummy-shaped design for its snug fit and ability to minimizes heat loss.
In addition, consider the following features:
Temperature rating: Ensure that the sleeping bag's temperature rating aligns with the coldest conditions you plan to camp in.
It's wise to choose a slightly lower temperature rating for added warmth and safety.
Weight: Aim for a sleeping bag weighing between 2 to 3 pounds for ultralight backpacking.
Keep in mind that lighter bags may compromise on insulation, so carefully consider your priorities.
Compressibility: High-quality sleeping bags are compact and can be compressed into small sizes, saving space in your backpack.
Ultralight winter sleeping pad
When considering an ultralight winter sleeping pad, features like high insulation value (R-value), lightweight materials, and a compact design should be on your checklist.
An excellent option for an ultralight winter sleeping pad would be the Therm-a-Rest NeoAir XTherm NXT Ultralight Camping and Backpacking Sleeping Pad, which has an R-value of 7.3.
The recommended minimum R-value for winter camping is 5, making this particular pad an excellent choice for camping in extreme cold.
Weighing in at just over a pound, it offers a great balance of insulation, weight, and packability.
Ultralight camp stove
If you're not hot tent camping, you're going to need a reliable stove to cook on.
Consider factors like fuel type and efficiency, weight, boil time, and ease of use.
Some popular ultralight stoves include alcohol stoves, canister stoves, solid fuel stoves, and compact wood stoves.
Alcohol stoves: These are lightweight, simple, and affordable.
The drawback is they may struggle in windy or cold conditions.
Canister stoves: These more reliable and efficient than alcohol stoves, with adjustable heat output.
Solid fuel stoves: These are compact and fuel-efficient but slower to heat.
They're best suited for shorter trips or emergencies.
Wood stoves: These use small twigs as fuel, meaning their efficiency depends on the availability of dry wood.
For winter backpacking, inverted canister stoves offer a good balance between power and weight.
A reliable camp stove recommendation is the MSR WindBurner Personal Windproof Camping and Backpacking Stove System.
This stove boasts impressive wind resistance and efficient fuel consumption, making it an ideal choice for ultralight winter campers.
Ultralight food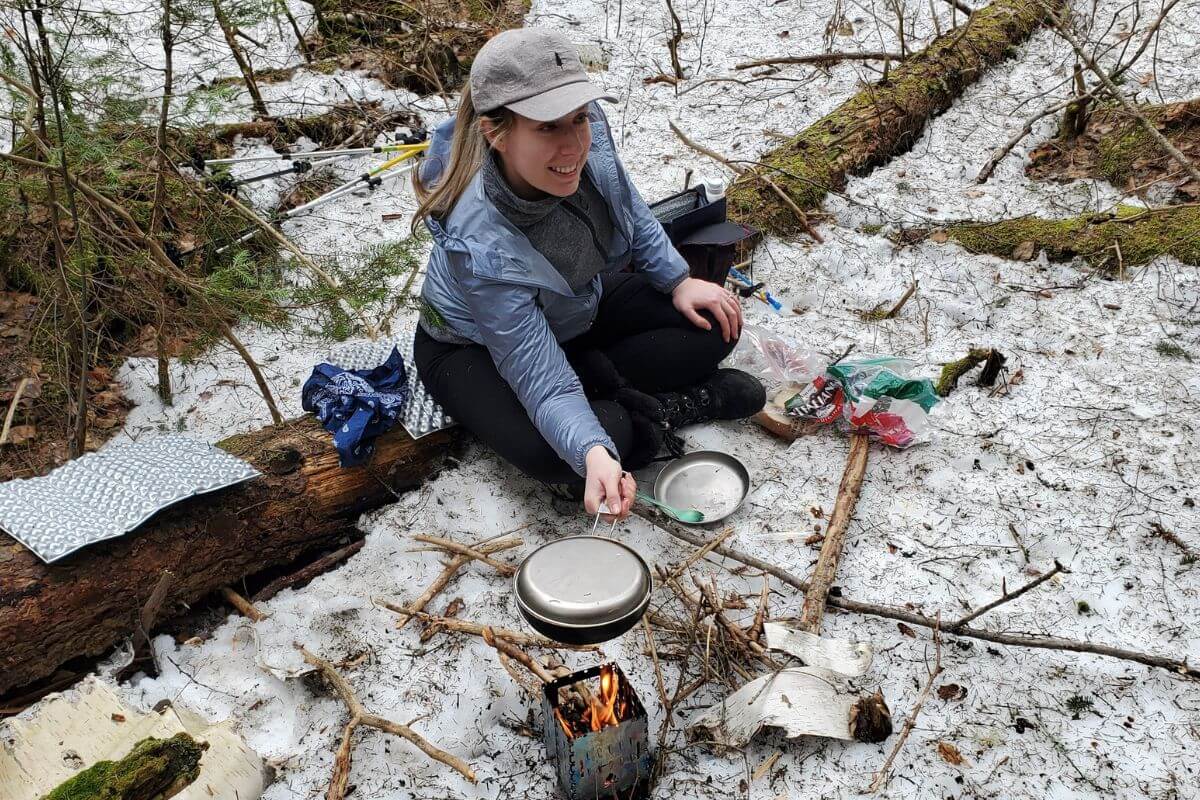 Winter backpacking necessitates both stamina and shrewd packing skills.
By carefully selecting lightweight and calorie-dense foods, you can maintain your strength on long treks without overburdening your pack.
Dehydrating your own meals or bringing prepackaged freeze-dried meals are practical solutions for ultralight winter camping.
Features to look for in foods:
Calorie-dense options with a high ratio of calories per ounce
Lightweight and compact packaging to save space in your backpack
Nutrient-rich ingredients to fuel your body during the trip
Quick and easy preparation using minimal cookware and fuel
Ingredients with low moisture content to minimize the risk of freezing
Suggestions for ultralight food:
Freeze-dried or dehydrated meals: Prepare at home or purchase from trusted brands
Instant oatmeal or cereal: Just add hot water and enjoy a warm breakfast
Nuts and seeds: Calorie-dense, nutrient-rich, and easy to carry
Energy bars or trail mix: Compact and easy to eat on the go
Hard cheese and summer sausage: Non-perishable protein sources that don't require refrigeration
Hot drinks: Lightweight powdered alternatives like instant coffee, hot chocolate, or tea
Keeping your clothing items to a minimum
Even though you'll need specific clothing items to stay warm, it's super important to keep your clothing items to a minimum.
A versatile layering system is key to achieving this.
Start with lightweight, moisture-wicking base layers to keep your skin dry and manage sweat.
For insulation, opt for insulating mid-layers such as fleece jackets or down vests.
These provide warmth without adding excessive weight to your pack.
Finally, ensure you have a waterproof and breathable outer layer, like a rain jacket and pants, to protect against moisture from snow or rain.
Remember to pack layers that can be easily added or removed to regulate your body temperature effectively as conditions change.
Staying hydrated
Carry a lightweight water filtration system or purification tablets to minimize the weight of carrying large amounts of water.
Utilize snow as a water source and melt it for drinking water to reduce the need to carry extra weight.
Bring a lightweight insulated thermos or make your own insulated sleeve to prevent water from freezing.
Cutting down extra weight on must-have items
Headlamp: Go for a lightweight and minimalist headlamp with efficient LED technology.
Snow shovel: Choose a compact, collapsible shovel made of lightweight materials like aluminum.
First aid kit: Customize your first aid kit to only include essential items for winter camping.
Fire tools: Carry a compact fire starter tool or lighter, and use natural tinder available at your campsite.
Cookware and cutlery: Bring a lightweight, compact cookware set made of materials like titanium, and use a spork to save space.
Navigation and communication tools: Rely on multi-functional devices such as a smartphone with GPS and maps, and lightweight 2-way radios.
Snowshoes and skis: Select lightweight, compact designs that can be easily carried when not in use.
Remember, always prioritize safety and functionality over weight reduction when selecting your gear.
Practicing mindful packing
When packing for ultralight winter camping, it's crucial to be intentional about each item you pack.
Consider its weight and functionality before adding it to your pack.
This will help you carry only the essentials and minimize unnecessary weight.
One way to practice mindful packing is by prioritizing multi-use items.
This helps reduce redundancy in your gear, as well as save space and weight.
Here's a list of some essential items and their possible multiple uses:
Tarp: Shelter, rain cover, picnic blanket, emergency blanket, or gear cover.
Trekking poles: Hiking aid, tent pole, or monopod for photography.
Buff: Neck warmer, hat, sweat band, face cover, or pot holder.
Lightweight carabiners: Gear organization, hanging items to dry, or as a makeshift tie-down.
Always remember that the key to successful ultralight winter camping lies in meticulously choosing and organizing your gear.
Here's a concise table outlining essential winter camping gear and their recommended attributes:
| Item | Attribute |
| --- | --- |
| Backpack | 40-50 liters, water-resistant material |
| Insulation | Lightweight, packable, high warmth-to-weight ratio |
| Shelter | Lightweight, durable, easy to set up, weather-resistant |
| Sleep System | Ultralight pad and sleeping bag, appropriate for expected temperatures |
With these basic tips in mind, you can have a more comfortable and lightweight winter camping experience.
More about winter camping:
Elise is an experienced backcountry canoe tripper and winter camper from Ontario, Canada. She loves cooking up a storm over the campfire, taking in all the backcountry views, and enjoying a piña colada or two while relaxing at camp. She's also certified in Whitewater Rescue (WWR) I & II and Wilderness First Aid (WFA).