Once we decided to try backcountry camping, we knew we wanted to do everything in our power to be as safe as possible, which meant investing in a personal locator beacon or satellite messenger in case we ever found ourselves in trouble. After a fair amount of research and deliberation, we settled on the SPOT Gen4 Satellite GPS Messenger.
This little device has been through a lot with us, and now we've used it enough times to provide a really sold SPOT Gen4 review for anyone else who may be considering it.
Taking a look at the SPOT Gen4 satellite GPS messenger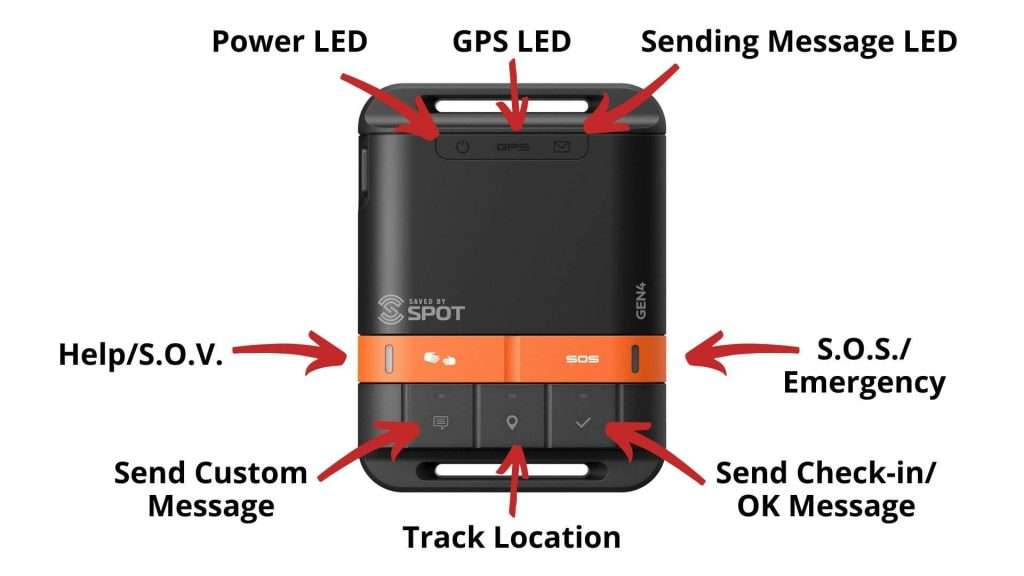 The SPOT Gen4 is a small, robust device that uses both GPS and satellite technology to send your location to emergency responders in the event of an emergency, or simply to let friends and family know you're safe. One of the things we liked best about the SPOT Gen4 is that it's relatively affordable compared to some other options on the market.
We also appreciated that the SPOT Gen4 offered a few really great features that we found to be really important to us. These include:
S.O.S./Emergency call: In the event of a potentially life-threatening emergency, we can activate the S.O.S. feature to send out a distress signal with our GPS location to emergency services. These messages are received by FocusPoint, which is an international emergency response centre that coordinates with local emergency responders to provide help.
Help/S.O.V. call: SPOT Gen4 has a "help" feature that will notify our emergency contacts that we need help in a non-life-threatening situation. The people we notify will then be able to contact the appropriate authority to come locate us.
Check-in/OK message: This allows us to instantly send a pre-programmed message and our GPS location via text message or email to up to 10 people to let them know we're safe.
Custom message: Similar to the Check-in/OK feature, this lets us send a custom message and our GPS location to up to 10 people. For instance, on a canoe camping trip, we might use this to let people know that we're wind-bound and therefore running behind schedule.
GPS location tracking: This allows us to share our current location and progress with others in real-time by sending them a special link to our SPOT Gen4 GPS map.
It's important to note that the SPOT Gen4 is a one-way communication device. This means that the person receiving your message will not be able to respond to you. If you're looking for something that offers two-way communication, this isn't the device for you.
SPOT Gen4 review: Our experience using it
We purchased the SPOT Gen4 in early 2021 and have since used it on at least 20 to 30 camping trips and day trips. With it, we set up an annual satellite messaging subscription for about $12 a month.
Setting up and yesting the SPOT Gen4
Setting our SPOT Gen4 up was pretty easy. We loaded the device with batteries, registered it online, paid our subscription, and then programmed our emergency contacts into the device. We also created a couple of custom messages that we could use in different scenarios and then tested sending them to our own phone numbers and email addresses to make sure it worked.
Here's an example of what a custom message looks like when received by email:
And here's what a check-in/OK message looks like when received by text message: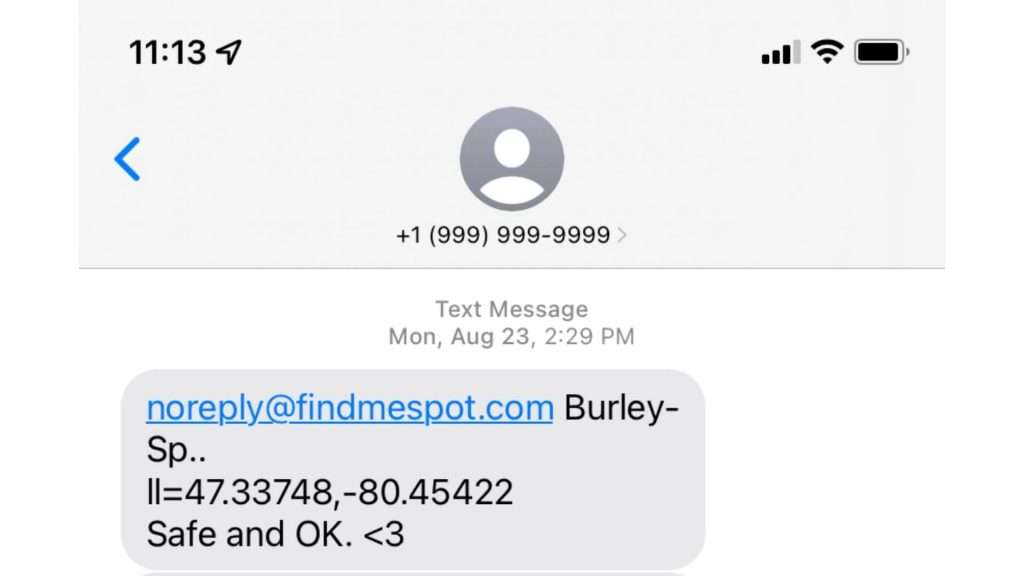 It's worth mentioning that if you want to set up custom messages, you have to do it from within your account via a web browser. SPOT Gen4 doesn't allow you to create custom messages directly on the device.
We also set our location tracking interval to 10 minutes, meaning that the device will automatically send our GPS location every 10 minutes to the SPOT Gen4 website. Location tracking intervals can be set to track at 2.5, 5, 10, 30, and 60 minutes.
Once we were all set up and confirmed that everything worked, we sent invites out to our emergency contacts to share our map with them. All they needed to do was click the link provided to see where we were in real-time.
Here's what the invite email looks like: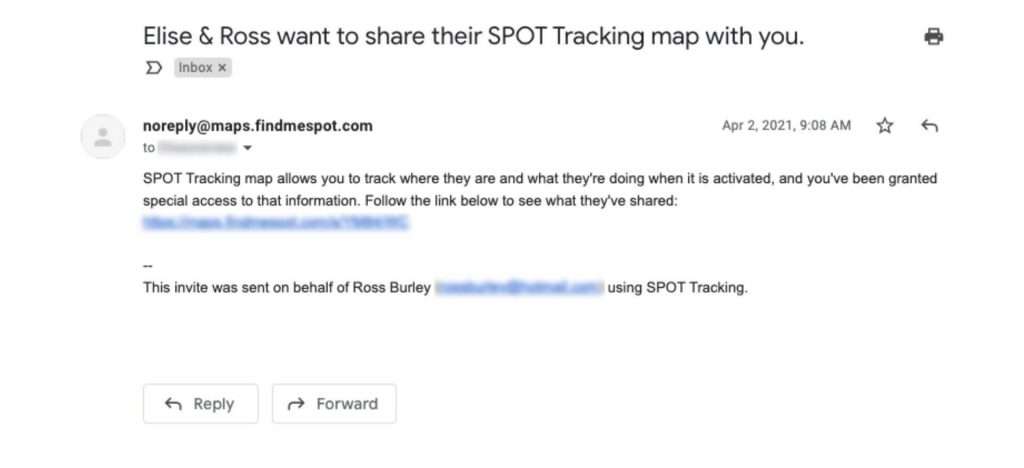 The great thing about this is that our emergency contacts (primarily our parents) could bookmark this link and visit it anytime to see where we were. This meant that we didn't have to send out invites every time we went out. The same link could be used to access our own personal map, no matter the date or time.
Note: If you're testing the custom message and check-in/OK message by sending them to yourselves, make sure you remember to switch to your emergency contacts before you go out on your next trip. We forgot to do this once, and ended up sending a bunch of check-in/OK messages to ourselves.
You can't change your contacts from the device, so make sure you do it when you're at home and have access to a computer!
Turning the SPOT Gen4 on and activating location tracking
To turn the SPOT Gen4 on, you simply press and hold down the power button on the left side. Lights will start flashing to signify that it's powering up.
Once the lights stop flashing, you can activate location tracking by pressing and holding down on the waypoint button in the middle of the device, which will flash fast at first, then slow down to flash every few seconds. This means that it's working!
One thing that we've found with the SPOT Gen4 is that the satellite GPS tracking has a tendency to stop tracking if it can't get a good satellite connection. We've had this happen on occasion when we've been in heavily wooded areas with lots of trees.
It's also happened when we've loaded our pack with the SPOT Gen4 attached into our canoe and it's been buried on the bottom. In these cases, the GPS LED in the top middle of the device will start flashing red, signifying that it's lost connection.
Sending custom messages and check-in/OK messages
Sending custom messages and check-in/OK messages are super easy. (Just remember you have to pre-program these from within your account via a web browser.) The speech bubble button on the front of the device sends the custom message while the checkmark button sends the check-in/OK message.
Press and old down on either of these button to send them. The message sending LED in the top right will start flashing, letting you know that it's on its way to your contacts. This is good to know when you're at camp and want to check-in before turning the device off.
Once the light has stopped flashing, you're safe to turn it off.
Using the S.O.S./Emergency and Help/S.O.V. buttons
Thankfully, we've never had to call for help on one of our trips, and we hope we never have to—but we're very glad to know that we have these options in case we do need help. Both the S.O.S./Emergency and Help/S.O.V. buttons can be found beneath the orange protective covering of the device, which prevents accidental activation.
Simply lift the side of the orange covering from the right to press down on the S.O.S. button. Do the same on the left side (marked by the pair of hands) to find the Help/S.O.V. button.
Using batteries and being out in the elements
The SPOT Gen4 requires four AAA batteries, which you can remove and change from the back of the device with an appropriate tool. The device is equipped with motion detection technology, which it uses to turn off tracking when it's not in use to conserve battery life.
How long do the batteries last?
We've been really impressed with the battery life of the SPOT Gen4, only having to change them once since first getting it. The device can run for over 400 hours while tracking at 10-minute intervals. When the batteries are low, the power LED will blink red.
We only wish that we could charge the SPOT Gen4 with a USB power cable using one of the portable chargers we own. Unfortunately, we're forced to carry an extra set of AAA batteries with us.
Does the SPOT Gen4 have bluetooth?
No, the SPOT Gen4 currently doesn't use bluetooth to connect to other devices. However, we'd love to see a feature like this in future versions to make it easier and more convenient to program it when you're on the go. With this version, you need access to a computer and internet connection to program it.
Where do you put it?
We keep our SPOT Gen4 attached to the back of one of our packs with a carabiner. It's been through heavy rain, snow, wind, scorching hot temperatures, freezing cold temperatures, and even a few good blows as it's rolled around in our canoe or been thrown down on the floor.
Lucky for us, this powerful little device is waterproof, dust-proof, and robust enough to withstand a fair level of impact from being thrown around.
Viewing our GPS map
One of our favourite things to do after a big trip is check our dedicated cloud-based map, just to see the progress we made. It's really cool to see each point that was tracked and how long it took us to complete the journey.
Here's a zoomed out look at our SPOT map for a big trip we did on Vancouver Island:
And here's a more zoomed in view of a hike we did near Tofino, starting from the Pacific Rim Highway, going down toward a sandy beach on the coast, and then back up to the highway again:
When you click on one of your waypoints, you can view more information about it, such as the date and time it was recorded, as well as the coordinates. The map itself is beautiful to look at, featuring clear and concise topography lines, contour intervals, and shaded relief. Zoom in close enough and you'll find both trails and roads, with their names (if available).
Using the time tracker box in the top right, you can view all your waypoints in real-time, over the past hour, over the past day, over the past week, or over the past month. Alternatively, you can select the little calendar icon to set a specific date and time range.
What we love (and don't love) about the SPOT Gen4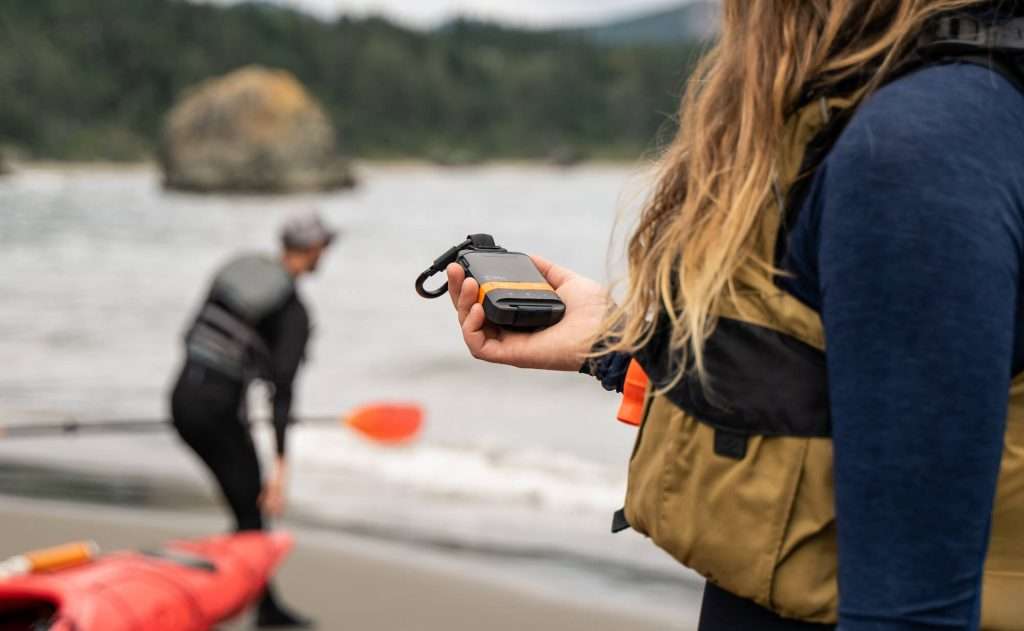 he main thing we really wanted from our very first satellite messenger was an easy and reliable way to call for help if we ever needed it when we're out in the wilderness. The SPOT Gen4 gives us that peace of mind, and then some.
We have people in our lives who are curious about our adventures—and worry about us when we're out there—so being able to give them access to our GPS map is an amazing bonus. They never have to wonder where we are or if we're in trouble so long as they can see our waypoints moving and we seem to be on schedule with our trips.
The biggest downside, we've found, is that the device can stop tracking our location if there are obstructions in the way. This has happened more often than we've wanted it to, causing our trips to appear sparsely tracked and unfinished. It's also led to some of our contacts becoming confused when they're viewing our map in real-time and not seeing any updated waypoints.
What we love about the SPOT Gen4
Small, lightweight device (about the same size as a deck of cards)
Waterproof, dustproof, and robust design
Easy to turn on and activate location tracking
Easy to send out a custom message or check-in/OK message
Protective covering for SOS and Help/S.O.V. buttons to prevent accidental calls
Extremely long battery life (sends 1,250 custom messages/check-in or OK messages on a single set of batteries)
Amazing cloud-based map system to share with contacts and use for ourselves
Mostly global satellite coverage
Affordable price for the device itself and annual satellite message subscription
What we don't love about the SPOT Gen4
Satellite tracking stops working occasionally if there are obstructions between the device and the satellites (e.g. heavily wooded areas with tree cover)
Custom message and check-in/OK message must be set up from a web browser
No two-way communication functionality
No weather report feature
No USB power cable for charging on the go (must carry extra AAA batteries)
How the SPOT Gen4 stacks up against other SPOT devices
The SPOT Gen4 is the updated version of the SPOT Gen3, which is no longer available. The other SPOT devices that are available include the SPOT X and the SPOT Trace.
The SPOT X 2-Way Satellite Messenger is basically a much more advanced version of the SPOT Gen4, although it looks nothing like it. That's because it offers two-way communication and includes a keyboard for you to type your messages on.
The SPOT Trace Satellite Tracking Device is a powerful yet simple tracker intended to use to track assets like your car, boat, bike, or something else of value. Since we're looking specifically at devices intended to be used by people venturing out in the remote wilderness, the SPOT Trace doesn't really apply, so we'll leave it out of our larger comparison.
Here's how the SPOT Gen4 and the SPOT X compare:
SPOT Gen4
(The device we're reviewing)
SPOT X
(SPOT's more advanced device)
$150 – $190
$250 – $350
USD $29.95 activation fee
USD $29.95 activation fee
Weighs 5 oz
Weighs 7 oz
Includes strap, carabiner, USB cable, first set of batteries, quick start guide
Includes strap, carabiner, power cable, sticker, kickstand, quick start guide
Requires 4 AAA batteries
Requires rechargeable lithium battery
Batteries last up to 1,250 sent messages
Batteries last up to 240 hours (10 days) at 10-minute intervals
S.O.S./Emergency function
S.O.S./Emergency function
Custom one-way messaging with up to 10 contacts
Two-way messaging
Check-in/OK message sending
Check-in/OK message sending
Works with cell phone numbers
Works with cell phone numbers
Works with email addresses
Works with email addresses
Unlimited S.O.S., help, and check-in/OK messages starting at USD $11.95/month
Unlimited S.O.S., help, check-in/OK, predefined, 20 custom messages starting at USD $11.95/month
Location tracking intervals at 5, 10, 30, and 60 minutes
Location tracking intervals at 5, 10, 30, and 60 minutes
Cloud-based mapping system
Cloud-based mapping system
Not pre-programmable from device
Pre-programmable from device
No dedicated mobile app
Dedicated SPOT X mobile app
No built-in compass
Built-in compass
No weather forecast feature
No weather forecast feature
The price range reflects the difference between U.S. and Canadian currencies. It will be on the lower end if you're paying for it in U.S. dollars and on the higher end in Canadian dollars.
If two-way messaging is important to you, then your choice is a no-brainer: Go with the SPOT X. However, if all you really need is an S.O.S. feature, then you can save almost half as much money by going for the SPOT Gen4. It's a real bonus that it includes one-way messaging to up to 10 emergency contacts, plus GPS location tracking with your own cloud-based map.
Is the SPOT Gen4 better than Garmin inReach satellite messenger devices?
Garmin inReach is another popular brand of satellite messengers, and their devices have some overlap with SPOT products in terms of features, however there is no device that is "better" than all the others. The best device for you completely depends on your needs—and your budget.
The SPOT Gen4 and all other SPOT devices use the Globalstar satellite network, whereas Garmin inReach satellite devices use the Iridium satellite network. This means that SPOT devices may have better coverage in North and South America, but Garmin inReach devices may have better coverage elsewhere in the world.
Another thing to consider is that the SPOT Gen4 only offers one-way messaging, whereas Garmin inReach devices offer two-way messaging. So, if you need to be able to communicate back and forth, then the SPOT Gen4 isn't going to be a good choice.
Finally, SPOT devices don't offer any weather forecast features, whereas Garmin inReach devices do. If you need to know what the weather is going to be like on your hike, then you may want to go with a Garmin inReach device.
The SPOT Gen4 does however have a few advantages over the Garmin inReach Mini. These include its smaller size, lighter weight, lower price, and potentially longer battery life.
You can expect to pay more for an inReach device (around $400 to $600+) because it's a more advanced device. We're considering upgrading to an inReach device in the future, but for now, the SPOT Gen4 suits us just perfectly.
If this is your first time shopping around for a satellite messenger device, the SPOT Gen4 is a great choice. However, as your needs change over the course of your backcountry camping tripping adventures, you may find that a more advanced device like the SPOT X or a Garmin inReach satellite messenger is a better fit.
SPOT Gen4 review: Our verdict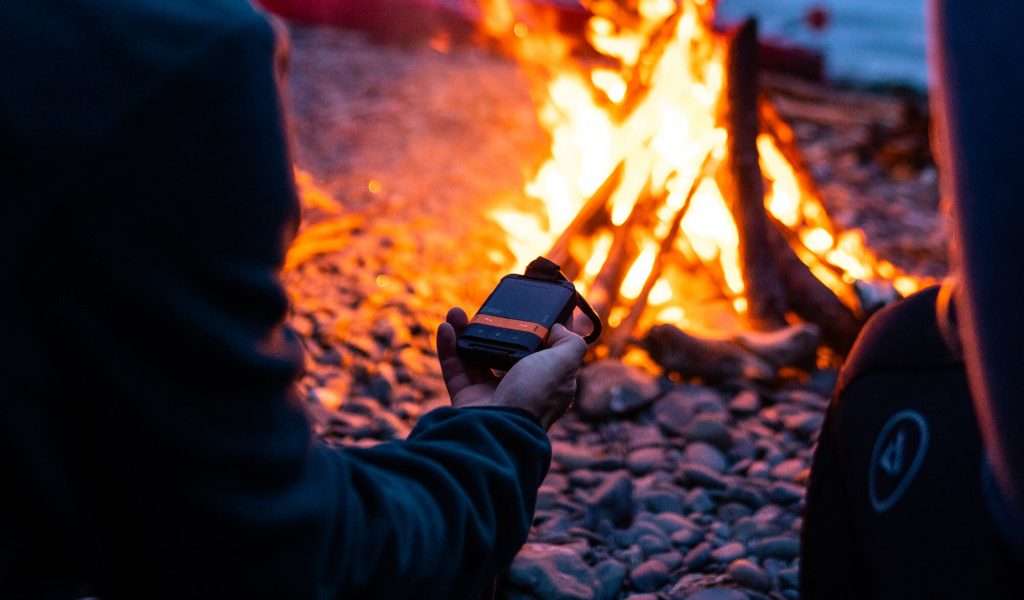 The SPOT Gen4 is a simple device, but it's effective and reliable—most of the time. Overall, we give it a solid rating of 7.5 out of 10. We'd give it a higher rating if the satellite connection wasn't so spotty in tree-covered areas or instances where the device is buried beneath our gear.
It's not feature-rich by any means, but that wasn't what we were looking for anyway.
Design: 7/10
Features and functionality: 6/10
Performance: 7.5/10
Quality: 8.5/10
Price: 8/10
Value: 7.5/10
Is the SPOT Gen4 worth it?
In a nutshell, yes, absolutely! We've been really happy with the ability to send custom messages and check-in/OK messages to our family members, and everyone absolutely loves to follow along with our map.
The price was also right with this little device. We just weren't ready to spend $300+ (plus a subscription) for our first one. But we'll likely upgrade to a more advanced model in the future and as needed. One thing we'd really like to get is the weather forecast for the day—especially on longer canoe camping trips that involve paddling on big, open water.
We hope that our SPOT Gen4 review has given you some helpful information. In the end it depends, on how you plan to use it, what your budget is, and what features are the most important to you.
You can get the SPOT Gen4 Satellite GPS Messenger or the SPOT X 2-Way Satellite Messenger today from Amazon, depending on your needs. Happy tripping!
Ross is an experienced backcountry canoe tripper and winter camper from Ontario, Canada. He loves looking at maps, planning new routes, sport fishing, and developing his nature photography skills. He's also certified in Whitewater Rescue (WWR) I & II and Wilderness First Aid (WFA).