If I had it my way, I'd go camping a lot more than I do now.
But alas, real life doesn't work that way.
Besides having to actually maintain a job to make a living, planning and preparing for camping trips also takes a lot of time and energy.
How often we go camping
As of this year, Elise and I go camping on about 6 to 10 camping trips a year.
That seems like a lot!
We're all-season campers who enjoy a combination of canoe camping trips in peak season and the shoulder seasons, plus hot tent camping in the winter.
This means that we get to spread our trips out throughout the year.
Here's what our breakdown generally looks like:
January to March: 1 to 2 winter hot tent camping trips—often in extreme cold temperatures
April to June: 2 early season trips (before the bugs come out and to hopefully start seeing moose feeding in Algonquin Park)
July to September: 2 to 4 peak season trips—a combination of short ones (1 to 3 nights) plus one long one (6 to 13 nights)
October to December: 1 to 2 late season trips typically in October or early November depending on how cold the weather is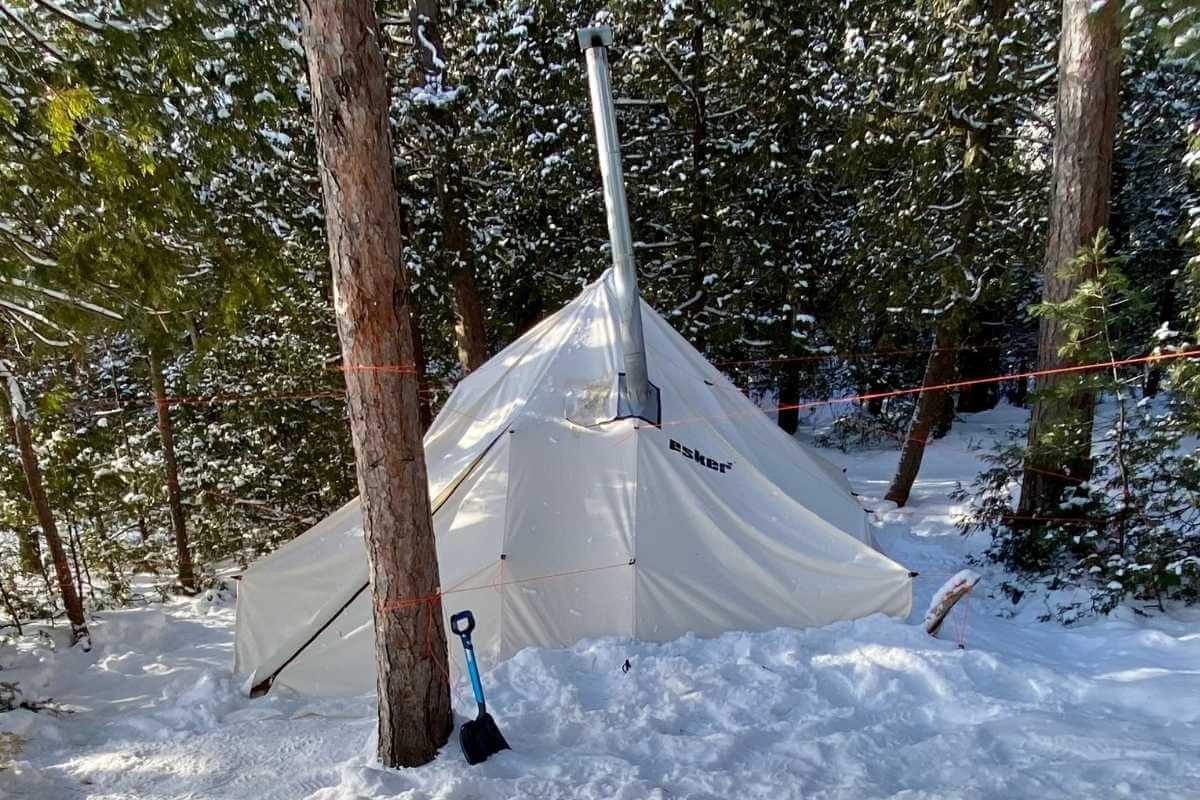 Everyone has different lifestyles, schedules, responsibilities, and camping preferences, but we were both curious to find out how often other people camped as well.
So, we decided to ask some of our camping friends.
Here are their responses!
Rob, 34
An electrician from Chilliwack, BC
"I usually go camping 1 to 2 times a year, usually in June or July. Now that I have a one-year-old, it's a bit hard to get away, but my wife and I plan on camping more in the future."
Matt, 39
A digital marketer from Toronto, ON
I try to go camping at least once a month starting in May until October. I have family in Huntsville, so it's nice to go visit them and recharge my batteries by combining it with a trip somewhere in Muskoka or Algonquin."
Olga, 31
A software developer from Toronto, ON
"I'm a big fan of nature and outdoors activities, but not so much the bugs or the cold. I'll go camping in August and September maybe once or twice if I can."
Paul, 54
A biologist from Ottawa, ON
"I used to go camping a lot during my student days, but now I'm lucky if I get out once or twice a year. Usually it's one long trip in the summer and maybe one shorter weekend trip."
Tania, 37
A social media marketing strategist from Niagara, ON
"My husband and I love camping, so we try to go out at least 4 times a year. Our goal is to make it 8 times this summer!"
Sofia, 38
A stay-at-home mother from Toronto, ON
"I honestly haven't been camping in years. So, zero times a year. But I hope to change that as the kids get older. They're too little right now to bring camping for it to be worth it."
Darryl, 67
Retired from Toronto, ON
"I'm not so much into camping as much these days but I used to get out at least 3 or 4 times a year. As you get older, your priorities change and camping just isn't as important. But I do miss it!"
Marianne, 21
A student from Toronto, ON
"I kind of hate camping… but some of my friends really like it, so I'll often go as an opportunity to get out and socialize. Once a year is enough for me."
Vince, 28
A software engineer from Sudbury, ON
"I go camping a ton—honestly, at least 12 times a year. Doesn't even matter the season or the temperature. I crave adventure and exploring, so camping keeps me sane and helps me shake things up when I feel like I'm in a rut with my routine.
Based on our very brief and casual survey, we discovered that the average person probably goes camping between 1 to 4 times a year.
Statistics about how often people go camping
I don't think it's any surprise that camping saw a surge in popularity since the start of the pandemic.
According to Kampgrounds of America's (KOA) 2022 camping report, here are some of the trends we've been seeing:
Higher-income earners are going camping more often. 40% of campers report a household income of $100,000—a percentage that's more than doubled since 2019.
Overcrowding is a leading problem that causes people to go camping less often. 44% of people camped less often or changed the way they camped due to the crowds.
People who are between jobs or experiencing career transitions go camping more often. 40% of people who left or changed jobs in 2021 camped more often.
7 in 10 U.S. and Canadian households identify as campers or glampers as of 2021.
Nearly 57 million U.S. and Canadian households took at least one camping trip in 2021 compared to just over 32 million households back in 2014.
58% of campers took an additional 3 or more trips in 2021 due to the pandemic.
New campers camped more often than experienced campers in 2021.
More than half of new campers are interested in going glamping and RVing.
Camping accounts for 40% of leisure trips among more than half of travelers (53%).
37% of campers replaced a leisure trip with camping in 2021.
More than half of campers (56%) are interested in continuing to camp even as COVID restrictions have eased up.
We'll look at updating the above information when KOA's 2023 camping report comes out, likely in the spring of 2023.
Camping more often reveals a need for greater alignment with our natural environment
What's interesting about the above stats is that camping is becoming more of a hobby for people who may not consider themselves "outdoorsy," so to speak.
This seems especially true given that popularity of glamping and RVing—two types of camping that offer far more luxurious alternatives to experiencing nature compared to traditional tent camping.
It also appears that more people are turning toward camping to "get away from it all" in terms of their hectic work schedules and urban/suburban dwelling.
As we become increasingly busy and disconnected from nature thanks to technology and all the modern luxuries we have, camping is becoming a way of forcing yourselves to unplug and reconnect with the great outdoors.
It highlights the ever increasing need to seek balance in our lives and reveals the fact that most of us aren't living in alignment with nature and our environment on a day-to-day basis.
Camping, after all, is about going back to basics and reminding ourselves that we are indeed part of nature.
Even though we have access to all the latest and greatest high-tech gear, it still takes a certain type of person to be able to disconnect and live outdoors without many of the comforts or conveniences modern living has to offer.
Above all, it's about getting out of our comfort zone, challenging ourselves in new ways, and forcing ourselves to be present in the moment.
It's a way to reset, recharge and appreciate how beautiful nature can be—something we all need every now and again.
Even though we're entering the fourth year of the pandemic, don't expect camping to be trending downward.
If anything is true, it's that camping nowadays is for everyone.
However you choose to plan your trips is up to you.
Next up: Find out all the things you actually don't need to bring on a camping trip
Ross is an experienced backcountry canoe tripper and winter camper from Ontario, Canada. He loves looking at maps, planning new routes, sport fishing, and developing his nature photography skills. He's also certified in Whitewater Rescue (WWR) I & II and Wilderness First Aid (WFA).