Winter camping can be a thrilling experience, but it can also be a freezing one if you don't have the right gear.
You can get away with using a four-season or five-season tent in the winter, but our first choice is always a hot tent.
We bought our hot tent two years ago and have tested it out in some of the harshest winter conditions, including extreme cold temperatures of -31°F (-35°C) and high winds.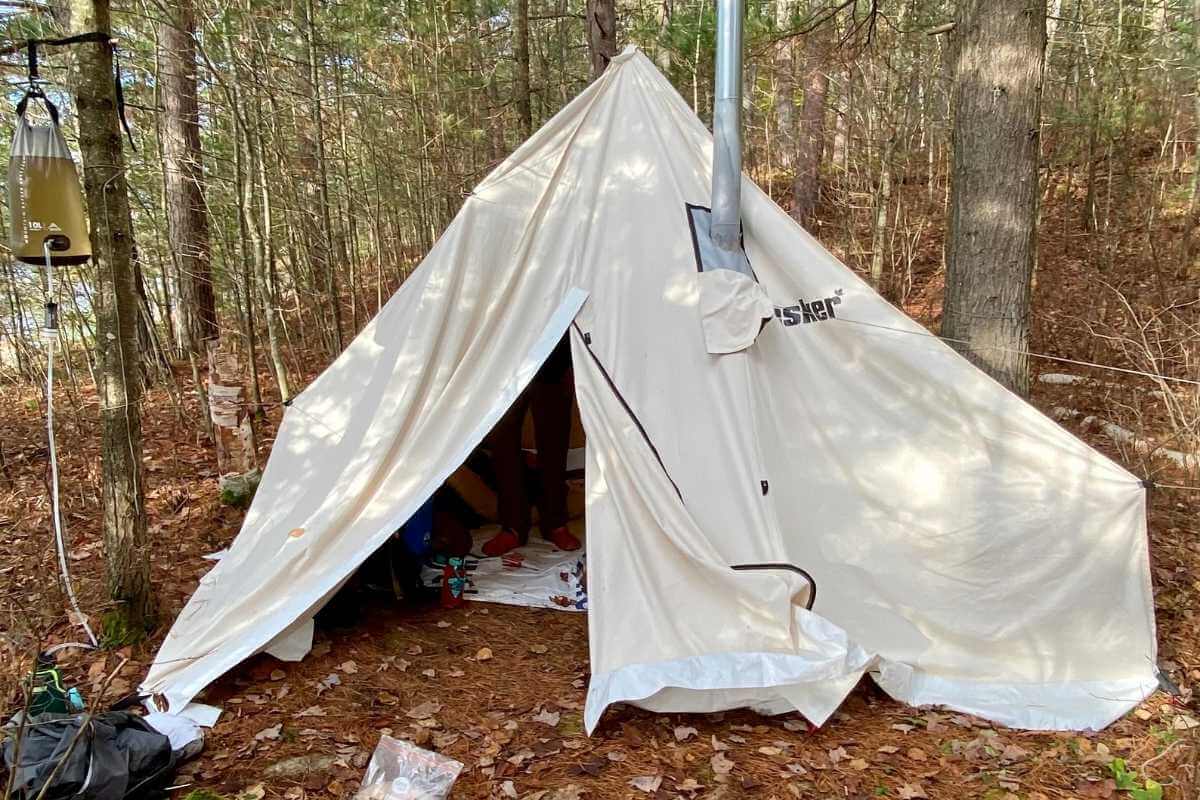 Ours is a traditional hot tent made of canvas—a natural material that provides excellent insulation, durability, and breathability.
Unfortunately, canvas tents are extremely heavy, bulky, and expensive, which make them less practical for some campers.
Our 12 by 12-foot Esker hot tent is a whopping 30 pounds without the stove and pipes, and the tent alone cost us a cool $2,100 Canadian dollars.
Don't get me wrong—it's an excellent tent—but I know not everyone has the budget for something like this, nor do they need their hot tent to be made from canvas material.
Luckily, winter hot tents can be made of other materials such as nylon, polyester, ripstop fabric, Gore-Tex, Cuben Fiber, silnylon, PVC-coated fabrics, or hybrid materials.
Each offers its own set of advantages and disadvantages based on factors like weight, durability, and insulation.
We certainly won't be buying a new hot tent anytime soon, however, if we were, these are a few that we would be looking at.
Looking at the OneTigris TEGIMEN hammock hot tent, I think it would be a fantastic choice for winter camping—particularly if you're a hammock camper.
Pros
Durable and weather-resistant: This hot tent is made of tough 70D Ripstop Nylon, so it can handle dirt, water, and abrasion without a problem. Plus, it's got a 3000mm waterproof rating, so you're safe from the elements.

Versatile: It's compatible with a variety of tent stoves and camping hammocks, making it a versatile choice for camping.

Spacious: The tent is roomy, measuring at 12.5ft * 6.6ft * 6.2ft (380cm * 200cm * 190cm), making it perfect for standard-sized hammocks. It also works well as a frame tent with your own poles or sticks, and it can accommodate 2-3 camping cots along with a hammock.
Cons
Setup challenge: Setting it up might not be the easiest task, so it's good to practice before heading out.

Not very tall: Some campers may wish it were a bit taller for more headroom.

No instructions: Unfortunately, it doesn't come with setup directions, which can be a drawback for those new to hot tents.
When I stumbled across the POMOLY STOVEHUT 70 hot tent, I loved that it included a huge awning for airflow and was designed to have the stove outside of the tent (but still protected by one side that would reflect heat inside.
What a cool looking hot tent!
Pros
Weatherproof: This tent is made from sturdy 70D tear-proof polyester fabric with a 2500mm waterproof rating, so it's fantastic for winter camping.

Smart design: It's got both cloth and mesh doors, keeping mosquitoes out while providing ventilation, which means it's also great for summer camping. The side door offers extra space for your stuff, and the rain curtain keeps the tent dry.
Cons
Heavy load: It's a bit on the heavy side at 6.7 pounds, so not the best for backpacking, but this is nothing compared to our canvas hot tent that weighs over 30 pounds in canvas material alone.

Leaks reported: Some users mentioned it can leak in heavy rain, so it might not be 100% waterproof.

Cheap stakes: The tent comes with flimsy spikes that can bend easily.
If I were looking for a lightweight and compact hot tent with room to spare and excellent wind resistance, I'd seriously consider getting the Preself hot tent.
Pros
Lightweight and compact: At 5 pounds it won't weigh you down, and it should fit nicely in a backpack.

Roomy inside: With a height of 7'3″ and a 13′ bottom diameter, it's spacious enough for 2-4 adults or 2-3 adults with a stove.

High wind resistance: It can handle strong winds and rain like a champ.

 
Cons
No floor or inner mesh: You'll need to buy these separately if you want them, or use a tarp.

Ventilation issues: Poor airflow can lead to condensation inside.

No stovepipe included: You'll have to get that separately too.
Another hot tent I would look at if you value versatility and need to accommodate a big group (up to six people) would be the OneTigris Rock Fortress hot tent.
Pros
Versatile design: This hot tent can handle all seasons and has a stove jack, a snow skirt for warmth, and double doors for ventilation. It's a good pick for summer too.

Roomy inside: With a diameter of 12.4ft and a height of 7.8ft, it can easily fit up to 6 people.

Quality material: It's made of strong 40D nylon with a 3000mm waterproof rating, and it comes with durable aluminum alloy poles and snag-free zippers.
Cons
No ground tarp: You'll need to buy a ground tarp separately to protect the bottom of the tent.

Possible leaks: A few campers have reported issues with seams leaking, so you might want to do some extra waterproofing.

Zipper problems: Some users mentioned that the zippers can come off their tracks after a few days of use.
I'm an extreme cold camper, but if I wanted a hot tent to use in less harsh conditions, such as in the spring and fall seasons, or simply in milder winter conditions, I'd definitely be looking at getting this hot tent for its versatility.
Pros
Weather-resistant: This tent is built with strong 210T PU3000mm Waterproof polyester, which means it can handle wind and rain like a pro.

Four-season ready: It's perfect for winter camping because it's equipped with a stove jack, making it warm and cozy even when it's cold outside.

Roomy inside: With a height of 6′ 9″ and a 13′ 1″ bottom diameter, it can comfortably fit up to 4 adults or 3 adults with a stove.

 
Cons
Durability concerns: It might not be as tough as some high-end hot tents out there.

Unclear setup instructions: The setup instructions might not be the easiest to follow.

Not for extreme weather: It may not be the best choice for very harsh weather conditions.
If I was considering solo camping in the winter or shoulder seasons, the POMOLY locomotive 20 chimney tent would be something I think I could really get into.
Pros
Weatherproof: Made from 20D ripstop silnylon fabric with a PU 3000mm waterproof rating, this tent keeps you dry in rainy or snowy weather.

Sturdy build: It comes with three 7-series aluminum alloy tent poles that make sure it can handle wind and rain.

Stove compatibility: The enlarged stove jack fits all POMOLY stoves and portable wood stoves, keeping you warm when it's cold outside.
Cons
For 1-2 people: It's designed for a cozy 1-2 person setup, so it might not work for larger groups.

A bit heavy: At 2.8 kilograms, it's not the lightest, which might not be ideal for backpacking.

Limited colour: It only comes in one colour, dark brown.
Sometimes I miss the dome shape of my three-season tent, so if I were looking to replicate this in my winter tent too, I'd definitely check out the POMOLY dome X4 hot tent.
Pros
Roomy dome design: The shape gives us lots of space inside, which is super nice.

3 doors: With three doors, getting in and out is a breeze.

Safety first: It's got a fireproof ground sheet, which adds a safety layer when using a wood stove.
Cons
No setup instructions: Setting it up can be a puzzle because there are no instructions included.

Not for extreme weather: It might not be the best choice for really harsh weather.

Very heavy: At 15 pounds, it's a bit weighty, which can be a drawback for some campers looking for lightweight gear.
If I were looking to have a winter camping party with as many as eight people, the FireHiking hot tent would be at the top of my list.
Pros
Spacious: It's big enough for 4-8 people, which is awesome for group camping.

Weatherproof: Made of 70D polyester, it keeps rain, snow, and cold wind out.

Convenient design: With 2 doors and 4 vents, it's comfy and easy to use with a bunch of people.
Cons
Snow clearance: You need to clear snow off the tent to prevent it from collapsing.

No half inner tent: It doesn't come with a half inner tent, which helps protects against pests and dampness, so you might have to get that separately.

Airflow adjustment required: You may need to tweak the air flow for year-round use.
Lastly, a lightweight and spacious tent for any winter camping trip would definitely be OneTigris NorthgazeTipi hot tent, which I'd consider as an all-around good tent for myself and Elise if we weren't planning on camping in temperatures as low as -40°F/-40°C.
Pros
Versatile use: It's great for all-season camping, plain and simple.

Strong design: The teepee/pyramid shape is sturdy and has reinforced stress points for extra wind resistance.

Easy setup: You only need one centre tent pole, which makes setup quick and hassle-free.
Cons
Not for extreme cold: It may not be ideal for super cold weather.

Limited space with a stove: If you have a stove inside, it's best for up to 2 campers.

No snow flaps: The tent lacks snow flaps around the door openings, allowing some cold air to get in.
What to consider when looking for the best hot tent
We all have different priorities when it comes to winter camping.
Maybe you don't want to camp in the winter at all, instead preferring to camp in late fall or early spring.
Whatever the case may be, there are still several factors you need to consider before rushing to purchase a hot tent.
Size
The size of your hot tent is probably the most important thing to consider.
You want to make sure that it is big enough to comfortably fit you and your gear, but not so big that it is difficult to set up or transport.
Since a hot tent is meant to be used with a stove, make sure you allow plenty of room for it—including a safety perimeter of 2 to 4 feet around it.
This will help prevent accidents (like leaning into the stove) or melting any nearby gear.
Material
The material of your hot tent matters, and it can make a big difference in how warm, dry, and comfortable you are.
You want to choose a tent that is made from a durable and weather-resistant material, but if you don't want a lot of weight or bulk, you may want to stay away from tents made of canvas material.
As long as you plan on camping in the winter, look for a tent that is designed to withstand harsh winter conditions, including wind, snow, and cold temperatures.
Ventilation
You want to make sure that your hot tent has plenty of ventilation to prevent condensation and keep the air inside fresh.
Look for a tent that has mesh windows or vents that can be opened or closed as needed.
Stove compatibility
If you plan to use a stove inside your hot tent, make sure that the tent is compatible with the type of stove you plan to use.
Look for a tent that has a stove jack or other opening that can accommodate your stove pipe.
Price
Finally, consider the price of your hot tent.
Hot tents are typically more expensive than three-season and even four-season tents, and they often don't include a stove, so you'll have to consider that as well when looking at your budget.
While you don't want to skimp on quality, you also don't want to overspend on features you don't need.
Look for a tent that has most of the features you need for a comfortable and safe winter camping experience, accepting the fact that you may not get everything from it.
For instance, many of the tents mentioned above aren't designed for extreme weather.
If you don't plan on camping in one of the worst blizzards of the season, then you'll be just fine.
More about winter camping:

Ross is an experienced backcountry canoe tripper and winter camper from Ontario, Canada. He loves looking at maps, planning new routes, sport fishing, and developing his nature photography skills. He's also certified in Whitewater Rescue (WWR) I & II and Wilderness First Aid (WFA).